quality policy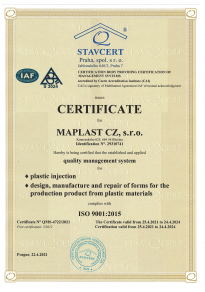 The basis for the further development of the company MAPLAST CZ, s.r.o. is a policy of continuous improvement of quality and the entire management process. We achieve that through particular goals and objectives.
The company vision is defined by a basic idea:
"Being recognized throughout Europe as a manufacturer of precision plastic parts and that especially in the field of electrical, water management and  construction industries, which ofers to it's customers a comprehensive solution for the production of plastic parts from tool design to the very act of pressing."
In accordance with this basic vision management of the company defines quality policy:
Producing quality products with high value and providing comprehensive solutions and services in a way to ensure that our continuous improvement processes contribute to higher customer satisfaction.
Striving to broaden our customer portfolio on both the Czech and the European market and to acquire major multinational companies as new customers.
Striving to consolidate positions and become an important and key supplier to the electrical and water management industries.
Become an important and key supplier to medical and packaging industry
Developing and increasing the contribution of all staff  by  putting a sustained emphasis on education and upgrading skills of each employee.
Within a mutual awareness, promoting communication and sharing of common goals among our workers
Not being satisfied with the current way of controlling processes, but seeeking new ways to tackle "weak points" and apply the continuous improvement of existing processes.
Developing and upgrading production technology and technological base of the company and favorable working conditions for our workers.
Developing long-term cooperation with proven quality and reliable suppliers and contractors.